What You Should Know
About Fentanyl
Synthetic fentanyl has been found in cocaine, methamphetamine, heroin, pills, and marijuana, causing overdoses and deaths. Fentanyl has no smell or taste. If you use drugs, you may be at risk for taking fentanyl without even knowing it.
What is fentanyl?
Fentanyl is a synthetic opioid that is 80 to 100 times stronger than morphine. Pharmaceutical fentanyl was developed for pain-management treatment of cancer patients. Illicitly manufactured, fentanyl is added to heroin, which is then disguised as highly potent heroin. Many users don't realize that the heroin they are purchasing may contain fentanyl — which often results in overdose deaths.
Order fentanyl testing strips for free at NextDistro.org
It takes only a few grains of fentanyl to cause
an overdose.
Below is a lethal dose of heroin compared with lethal doses of carfentanil and fentanyl.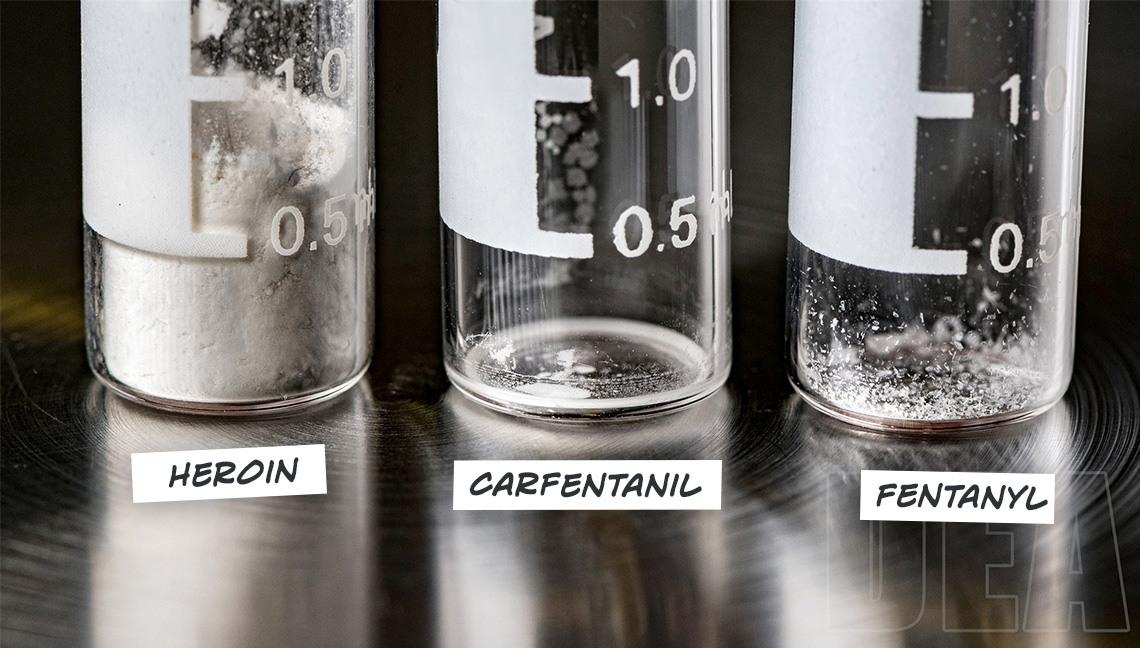 What does fentanyl
look like?
Illicitly manufactured powdered fentanyl looks just like many other drugs. It is commonly mixed with drugs like heroin, cocaine, and methamphetamine, or made into pills that resemble other prescription opioids. In its liquid form, illicitly manufactured fentanyl can be found in nasal sprays and eye drops, and it can be dropped onto paper or small candies.
What does it feel like to
use fentanyl?
Fentanyl produces effects such as relaxation, euphoria, pain relief, sedation, confusion, drowsiness, dizziness, nausea, vomiting, urinary retention, pupillary constriction, and respiratory depression (you could stop breathing).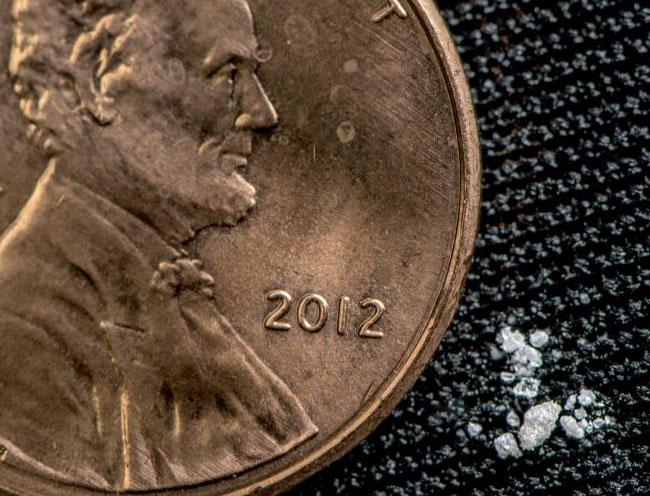 Two milligrams of fentanyl can be lethal. Drug Enforcement Administration (DEA) analysis has found counterfeit pills ranging from .02 to 5.1 milligrams (more than twice the lethal dose) of fentanyl per tablet.
How does fentanyl get into the drug I want
to use?
Fentanyl is often added to other drugs to make them cheaper, more powerful, more addictive, and more dangerous. According to the DEA, most of the illicit supply comes from outside the United States, where clandestine laboratories synthesize fentanyl into counterfeit pills. These fake pills are designed to appear nearly identical to legitimate prescriptions, such as Oxycontin®, Percocet®, Vicodin®, Adderall®, Xanax®, and other medicines. Fentanyl powder is also being added to other street drugs to increase their potency. You can't tell if fentanyl is in the drug you are about to use. The only way to be sure is to test street drugs for fentanyl.
How to test for fentanyl and prevent
an overdose.
How do I test
for fentanyl?
Fentanyl test strips can help you determine if the street drug you are about to use contains fentanyl. Here's how to test a drug for fentanyl:
Put a very small amount of powder (about the size of half a grain of rice) in a shot glass half filled with water. Swirl it until the powder is completely dissolved. If you want to test something that isn't a powder, crush it first. If you are testing a stimulant like meth, use a full shot glass

of water.

Hold the solid-blue end of the test strip and dip the other end in the water for about

10 seconds.

Take the strip out of the water and wait

60 seconds.

Look at the strip under a bright light and count the red lines (even light red counts) within 10 minutes of doing

the test.

Two red lines means there is no fentanyl. One red line means there is fentanyl, so do

not use!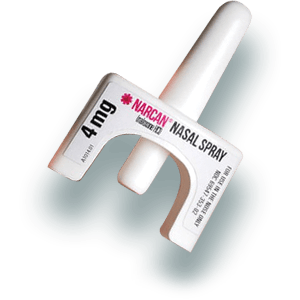 When using, go slow and carry Narcan®.
Always carry Narcan, a lifesaving medication that can stop an overdose while it's happening. Narcan is available at all pharmacies in Delaware, without a prescription, or through distribution centers. When using drugs, start with a very small amount and go slow to test the strength. Never use alone, but if you must, have someone check on you. Talk to friends and family about what to do if you overdose. Delaware's Good Samaritan Law offers criminal and civil protection for individuals acting in good faith to assist someone who has overdosed on drugs or alcohol. When an overdose occurs, call 9-1-1.
Learn the signs of
an overdose.
Recognizing the signs of an opioid overdose can save a life. Here are some things to look for:
Small, constricted "pinpoint" pupils

Falling asleep or losing consciousness

Slow, weak, or no breathing

Choking or gurgling sounds

Limp body

Cold and/or clammy skin

Discolored skin (especially in lips and nails)
Where to
get Narcan: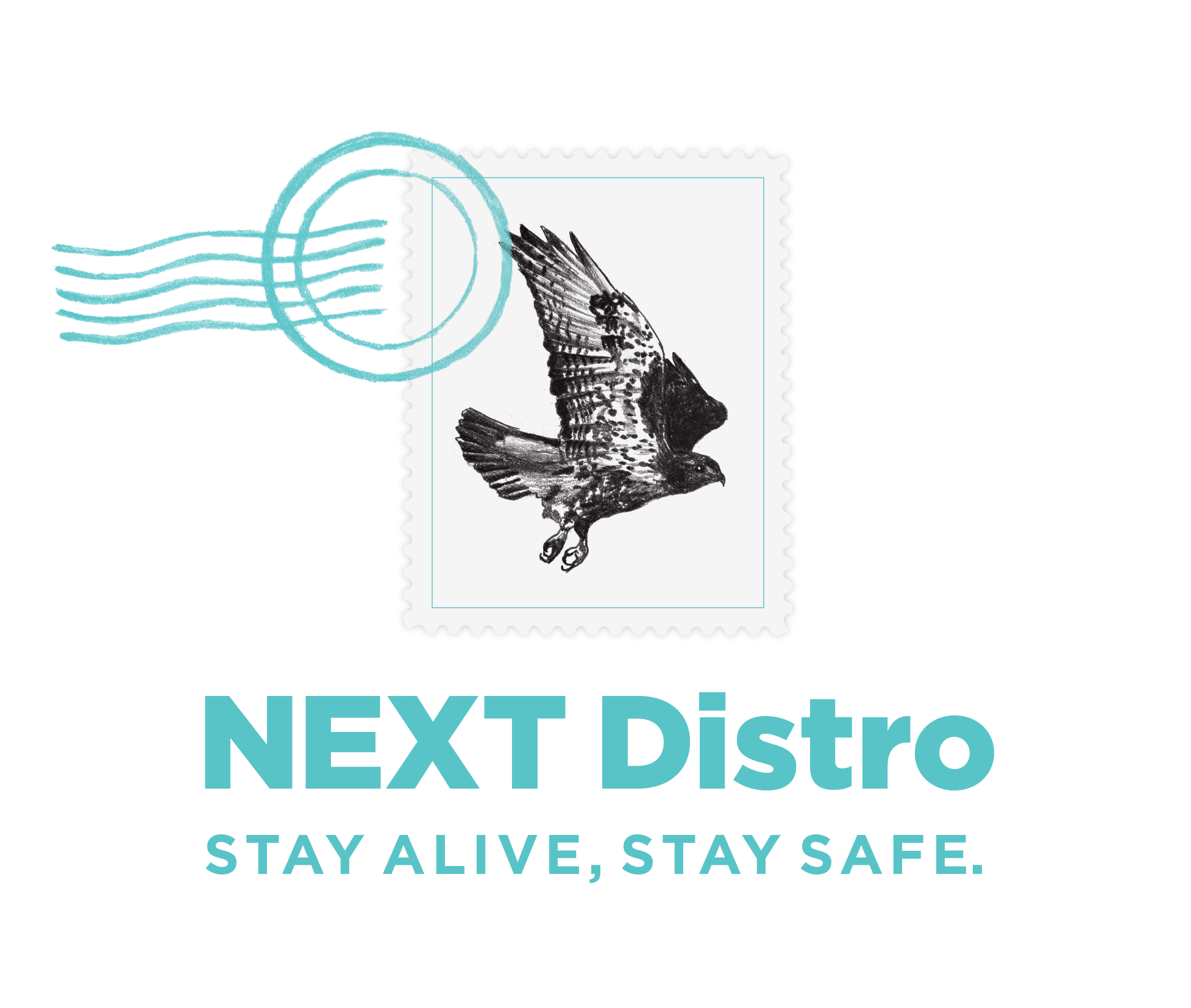 Narcan can be mailed directly
to you.
Narcan, also known as naloxone, is available through naloxone distribution centers at treatment providers in the state.
Learn more
Attend a monthly distribution or access
training event.
Special Narcan distribution events are held at the following locations every month.
Access Training
This classroom-style training offers an informative presentation to a small group in 30 to 45 minutes, with plenty of time for questions and practice. Participants should plan for the full one-hour time. Participants will learn how to recognize and appropriately respond to an opioid overdose. This is a free classroom-style training event and is the most informative style of training for any member of the public.
POD (Point of Distribution) Training
POD training only requires a few minutes per person. The POD is open for one hour, but participants should plan for only a 15-minute window to complete the training during this hour. You do not need to attend for the full hour.
At the completion of both training, each participant is eligible to receive an Opioid Rescue Kit.
Find a location and day of the week that works for you and click the Register button to sign up: