Important Information
for Pharmacists
You can play a valuable role in helping to prevent the misuse and diversion of opioids in our communities. As a pharmacist, you are frequently the first point of contact for prescription drug education and information. You have the potential to trigger a discussion with patients who appear to be at risk for addiction. We urge you to:
Use the Prescription Monitoring Program (PMP) — registration takes about five minutes at Delaware.PMPAware.net .
Look for a patient's risk assessment score to determine if they could be at risk for addiction or substance use disorder.
Use the materials you can download on this site to prepare yourself with information that can make a difference in your discussion.

Suggest Narcan for patients who are taking opioid medications.
Always educate patients on the dangers of long-term use of opioid prescription drugs.
You Can Play a Role in Helping to Reverse
an Overdose
Narcan, a medication that can reverse an overdose in just minutes, should be dispensed to patients who are prescribed opioids, especially if they are at risk of substance use disorder or overdose. Under the Narcan Community Standing Order, Narcan can be prescribed to anyone who requests it by a pharmacist at a participating pharmacy, without a health care provider's prescription. Narcan 4 mg nasal spray is covered at zero copay for Medicaid FFS and MCO.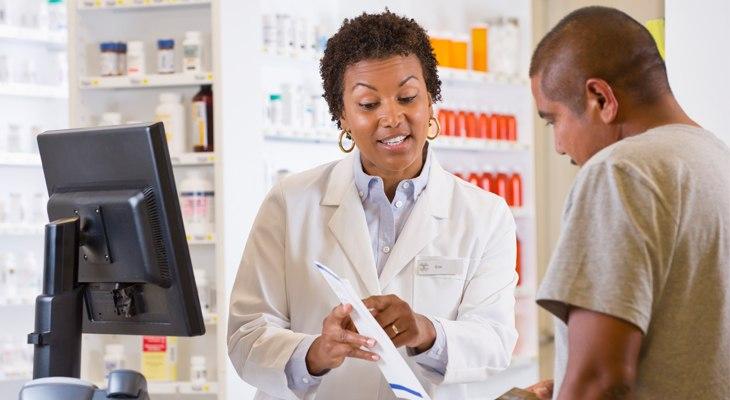 Reducing Opioid-Related Harms: A Role
for Pharmacists
Narcan Prescribing in Delaware
A standing order authorizes approved participating pharmacies to distribute nasal Narcan kits to individuals who have completed Community-Based Narcan Access Program (CBNAP) Opioid Overdose Responder Training. During in-person training, pharmacists can walk the patient through the Delaware Overdose Guidance handout or have the patient view the video training on this website. Pharmacists should consider ordering training and nasal Narcan kits for those who have been prescribed 50 or more morphine milligram equivalents (MME) per day.
Narcan is available without a prescription at these participating pharmacies
in Delaware:
CVS Pharmacy locations (including those located inside Target stores)

Walmart and Sam's Club store locations

Giant Pharmacy locations

Walgreens Pharmacy locations

Acme and Safeway Pharmacy locations

Rite Aid Pharmacy locations

ShopRite Pharmacy locations

Shayona Pharmacy, Delmar

Ivira Pharmacy locations
Narcan Training
This training may be provided through community-based classes or online videos, by direct instruction from you or another trained pharmacist, or by viewing the following video . Pharmacists are also urged to distribute the OpiRescue DE information card and to encourage patients to download the OpiRescue DE app that offers a step-by-step guide on how to use naloxone in the event of an overdose. Pharmacists should also encourage those prescribed naloxone to report when it has been used so that there are sufficient quantities of the medication available where it is needed.
This education program includes:
Overdose prevention techniques

Recognizing the signs and symptoms of an overdose

Calling 9-1-1

Airway and breathing assessment

Rescue breathing

Narcan storage and carrying

Administration

Post-overdose and follow-up care
Increasing Buprenorphine Access in Delaware Community Pharmacies
Pharmacist Training
Online continuing education on safe and effective opioid prescribing for chronic pain is available for pharmacists, accredited by the Boston University School of Medicine.
Learn more
Sign up for updates and CME credit opportunities